Tilt Motor Mount kit to suit tools with 20mm collars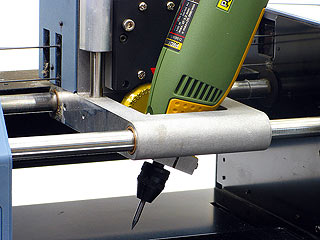 Tilt Motor Mount in a Roland MDX-15, angled
This Tilt Motor Mount fits 20mm Proxxon IB/E and LB/E professional motors to the Roland MDX-15 and MDX-20.
At angles from zero (normal use) up to 30 degrees (inside ring engraving and as a fifth axis), the TMM-KIT will mount securely both the HIGH or LOW motor positions in any MDX15 or MDX20.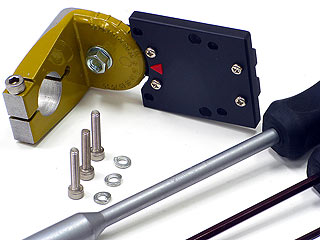 Tilt Motor Mount kit of parts and tools
We include high quality Proxxon adjusting tools for the 0-30 degree setting, for tightening the M4 mounting screws for the MDX, and a hex key for the motor clamp.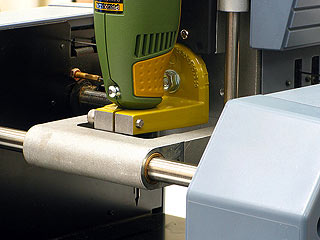 Tilt Motor Mount in a Roland MDX-15, straight
Although any 20mm motor neck may be clamped in the Tilt Motor Mount, we recommend the Proxxon IB/E and LB/E professional motors. We stock these motors in 115V 60Hz and 230V 50Hz.
| | | |
| --- | --- | --- |
| | 115V 60Hz | 230V 50Hz |
| Short neck: | 38483 | 28481 |
| Long neck: | 38486 | 28485 |
Price: USD115 / EUR82 for TMM kit (Subject to change with currency variations)
Registered postage available worldwide. Please inquire about freight to your destination and Proxxon tool prices, which may be directly purchased from Fourth Axis. Please specify your mains voltage when ordering.