Rotary 4th/Fourth Axis®30 for Roland PIX-30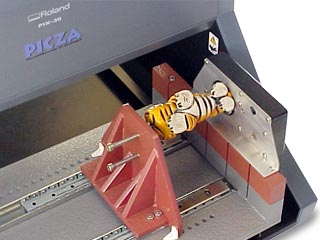 Fourth Axis

®

30 with a ceramic tiger mounted
We strongly endorse the use of feathertouch scanners such as the Roland PIX30. Such feathertouch scanners produce a much more reliable surface record of complex, artistic objects than most laser scanners.
Why we recommend the PIX-30
Unfortunately, laser scanners falter when presented with refractive, reflective, translucent, or highly absorbent surfaces.
Refractive materials such as glass, acrylic, crystals redirect the laser beam so it fails to return to the sensor.
The result is artificial holes in the surface record, random spikes where a rogue laser spot interferes with the sensor. UFOs may appear in space, detached from the true object.
Specular reflective (mirror-like) targets cause the same trio of objectionable results with laser scanning.
Translucent objects (milky, semi-transparent) trouble the laser scanner's sensor as it does not know from what distance the signal came. The 'lie' it tells depends on the degree of opacity.
Highly absorbent (black, matt-finish) dark objects, or colours diametrally opposite the laser wavelength on the colour wheel, simply refuse to send a signal back.
It's possible to rectify these difficult surfaces for laser scanning with sprays or paints. Trouble is, their solvents damage many plastics, painted surfaces, and natural objects. The white particles may not be removable. By this process of spray treatment, you alter the surface texture that you're trying to capture!
All scan files displayed on this site are absolutely un-edited feathertouch captures.
Feathertouch scanning achieves finer surface qualities
The Roland PIX30 feathertouch scanner with its 0.03mm radius needle can sense textures much finer than laser scanners will see, without any need to risk your precious target by spray treatment.
Feathertouch scanners on MDX15, MDX20, PIX30 are very inexpensive. Although the digitizing time is longer than the laser, they are so reliable and produce such perfect surface records that the extra scan time is compensated by no need for hand-correction of faulty laser scan files.
The Fourth Axis®30 allows you to scan objects with undercuts, hidden areas, through-holes and shadows.
This rotary capability allows the PIX30 to spin objects of up to 120mm diameter, at the full resolution of 3070 steps per revolution.
The Fourth Axis

®

Interface Box: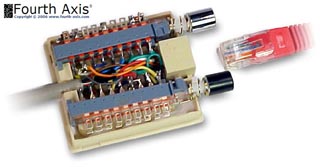 The interface box contains our Hardware Mirror

™


and XYZ/Rotary changeover switch.
Elegantly designed, our interface allows you to choose regular XYZ operation or X-Rotary-Z operation, so you never need to remove the interface once it's installed. You never need to touch any Roland connectors again. Just push the black button to choose.
Hardware Mirror™ can halve the size of your parts program library. The button reverses the normal motions of the rotary, so you mill the opposite-hand version of a product you have designed. Push the silver button to select Mirror or Normal.
All our rotary axes boast these standard features: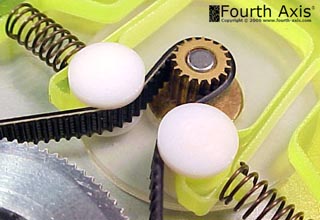 The secret behind Fourth Axis

®

high resolution is our double
reduction - the primary 95:18 reduction is enhanced by the
secondary 309:51 reduction
Highest resolution ever
At 3070 steps per revolution, you can show 3 times the detail and use 3 times the rotation torque, over first generation rotaries. With this level of detail, rotary scanning with PIX-30 up to 120mm diameter is now possible.
Zero backlash
Older, first generation rotaries used molded plastic gears with noticeable backlash (looseness between teeth) every time the direction of rotation reverses. This cannot be compensated by the Roland DG controller. Fourth Axis® builds double-reduction zero-backlash mechanisms into the Models 30, 20 and 15. This rotary performance can be maintained for the life of the micromachine.
48 ball bearing spindle construction
Mount your heaviest targets with confidence. Forty-eight ball bearings around a 50mm diameter main spindle can handle them. We don't charge extra for a matching 50mm chuck. It's included, with 4 independent jaws and hex adjustment key. So is our unique, detachable magnetic faceplate. So are the threaded centre-shaft, rubber cone-jaws and nuts, and a spherical tailstock.
Rotary Command

™

angular readout
Each Fourth Axis® rotary micromachine shows you the current rotation in degrees using laser-calibration and full time high brightness LED illumination. We used first surface mirrors (like the Hubble Space Telescope) for a perfect image through optical acrylic lenses. There's even a rotation vernier "clock" with manually adjustable zero.
Second generation micromachines
You invest in a rotary fourth axis for RESULTS. Your fine jewelry, souvenir, art of prototyping productivity all depend on fine engineering and superior performance. Our new Fourth Axis® rotaries are second-generation micromachines which break the 3000-step barrier. Using Kevlar™, Teflon™, 305 stainless steel, 6061 aluminum and anisotropic magnets, they deliver backlash-free, high resolution output and torque that competing rotaries just can't match!
Enhance your modeling machine
Our models 30, 20 and 15 let you work above and below the central axis of your target. Often, you can use a smaller machine to do larger work, when you equip it with a Fourth Axis® micromachine.
Specifications:
Rotary Specifications for Fourth Axis

®

30
Model name
Fourth Axis

®

30
Suitable platform
Roland PIX-30
Gross weight
Package dimensions
Net weight (bare device)
Net weight (accessories)
X
Y
Z
Working space (mm)
304.8
203.2
60.5
Max. rotational diameter
121mm (60.5 max penetration)
Rotary resolution
3070 steps per revolution
Headstock face diameter
43mm
Tailstock diameter
6mm
Centre height
70mm & 100.25mm
Rotational feedrate
Max driven revolutions
Illuminated calibration
0-360° plus vernier
Workholding accessories

- M8 threaded shaft, 2 nuts
- Rubber cone jaws x 2
- 50mm 4-jaw chuck and key
- Set of 35 chucking plugs
- Stainless steel capscrews x 12
- Necessary fixing screws etc.

Manual
Illustrated User Manual
Available options
These entries represent typical values, not specification maxima nor minima.
The specifications are subject to change without notice.
Fourth Axis, Fourth Axis 15

®

, Fourth Axis 20

®

, Fourth Axis 30

®

, Fourth Axis

®

IREO, include registered business names of Relativity PL.
Roland and Roland DG are trademarks of Roland DG Corporation.
Products manufactured in Australia. Copyright © Relativity Pty Ltd.