MMM

™

(Fourth Axis
®

MDX Manual Machinist)
What is MMM

™

?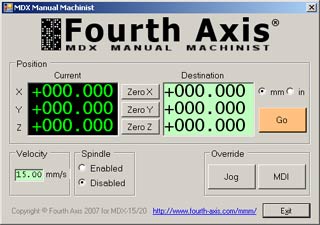 MMM

™
main interface page
Fourth Axis® MDX Manual Machinist (MMM™) is control software which will allow you to drive your Roland DG® MDX-15/MDX-20 mill in real-time using individual, manual commands. You can send the commands easily by entering XYZ values and pressing an on-screen button, or enter actual RML-1 language code if you prefer. This is great for learning RML-1.
It is ideal for many simple operations like straight-line cutting, surfacing, drilling and facing, where the operations do not justify writing a program or 3D-drafting then generating a tool path.
Features include:
home position setting (previously unsupported for MDX-15/MDX-20)
the use of negative X and Y values while cutting with MMM

™

spindle ON/OFF control when moving
DRO on-screen digital current position display for XYZ
jog panel for quickly moving by selected chunks
feed rate selection for each motion
orthogonal, diagonal and triagonal cutting in X, Y, Z, XY, XZ, YZ, XYZ
an MDI (manual data input) panel which accepts valid RML-1 commands and executes them
MMM™ is supported on Windows 95, 98, ME, 2000, XP and Windows Vista.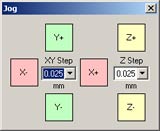 MMM

™
jog screen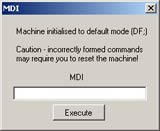 MMM

™
manual data input screen
MMM™ comes with an easy Windows installer and a detailed usage manual.
Please use the inquiry form below to place your order.