New High Resolution Rotary Axis for Roland MDX-15 and MDX-20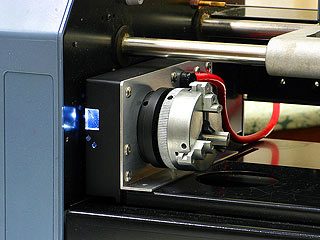 Fourth Axis 15HR installed with optional three-jaw chuck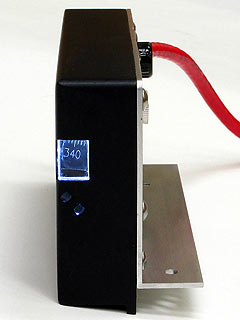 The slim 15HR unit mounts outside the Roland work volume
Adding a Fourth Axis to your MDX gives it an extra degree of freedom, allowing you to scan and mill objects with undercuts, hidden areas and through-holes.
We offer the Fourth Axis 15HR for Roland MDX-15, which has:
resolution > 4000 steps per revolution
ability to spin objects < 60mm in diameter
and the Fourth Axis 20HR for Roland MDX-20, which has:
resolution > 6000 steps per revolution
ability to spin objects < 70mm in diameter
While we realize this resolution may demand large file sizes and heavy processing, we're confident you'll be satisfied with the metal cutting torque and fine detail abilities.
New capabilities
With a Fourth Axis installed, your MDX will be able to mill almost any object you can design. You're no longer limited to using peg fixtures or index cutting. Most things may be produced in a single pass, and more complex artwork reproduced using the FlipFlopWax methodology.
| | | |
| --- | --- | --- |
| You can do rotary scans... | ...index milling... | ...and rotary milling |
We have customers making everything from rings to monkeys to cylindrical sculptures with their Fourth Axis and Roland MDX together. You too can start proper rotary machining immediately, as we include a four-jaw independent chuck and the FARM software you need to get you going.
With our four-jaw chuck fitted, only the tips of the jaws are in the work zone; your cutters are safe, even if you should have an accident! The full X-dimension of your MDX remains available for rotary work.
Example artwork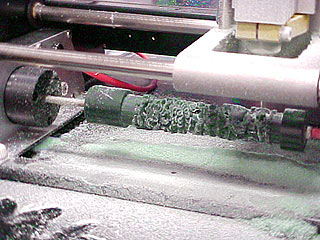 Large rotary milled artwork using the Spigot Adapter and tailstock
This piece of wax holds incredible detail, as it is machined around its whole periphery, 360 degrees. Hold it up to the light and you will be able to see straight through parts!
Many of our customers also use a third-party spindle such as the Proxxon 28481 (20,000rpm) in combination with a Tilt Motor Mount Kit (for MDX). We encourage and support this as higher spindle speeds permit smaller tools and finer details.
How we do it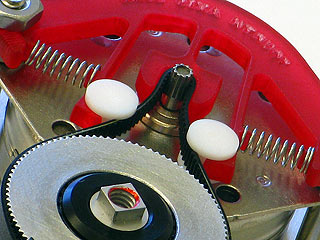 Part of our backlash-free double-reduction mechanism
When each movement of the spindle might approach a twentieth of one degree, you'd be permitted to worry about backlash! Inside every rotary is our unique double-reduction mechanism that eliminates backlash. No shortcuts, no software compensation needed.
The rotary units are fully sealed so you need not worry about ingress of particulates or chips.
Although our mechanism requires a little more torque, we provide a special controller to overcome this and give you far more power than ever, without loading down your MDX system.
Fit and forget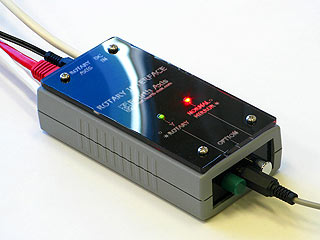 Fourth Axis rotary controller
We know you may alternate between XYZ and Rotary work, so our controller allows you to choose XYZ or Rotary machining at the push of a button.
You can leave your Fourth Axis and controller mounted permanently after installation, and use your MDX for XYZ work, as the Fourth Axis mounts completely outside the work area.

Specifications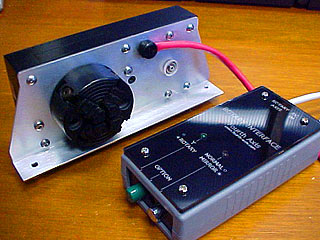 Fourth Axis 20HR with controller
resolution: > 4000 (15HR) and > 6000 (20HR) steps per revolution,
turnable diameter: < 60mm (15HR) and < 70mm (20HR),
axis center height: 30.25mm,
available voltages: 230V 50Hz or 115V 60Hz,
includes four-jaw independent chuck and stainless socket screws,
includes Z-height gauge and Y-adapter arm,
includes tutorial manual and FARM software,
includes controller, power supply and all cables,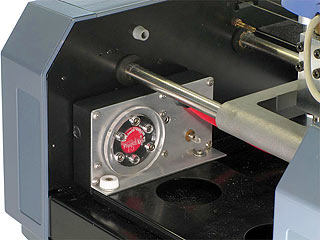 Fourth Axis 15HR installed with optional magnetic faceplate