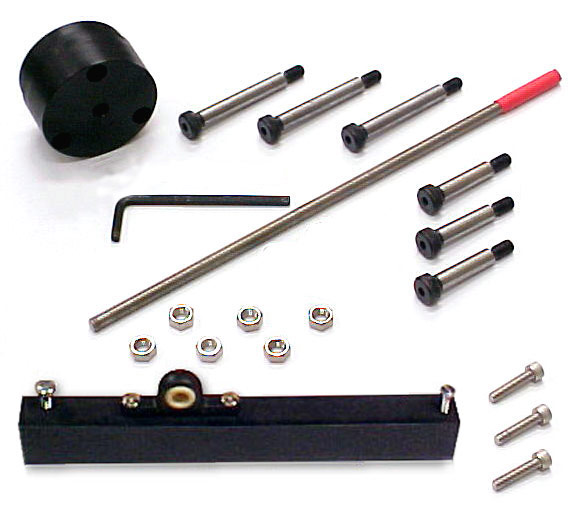 The Spigot Adapter Kit includes all parts necessary for mounting and turning objects on the included shaft or spigots.
Excellent concenctricity of our spigot adapter lets you rotate mill/scan targets on center, without fussing over jaw alignment and without jaws as external obstacles. Precision ground 6mm spigots locate in the adapter by a deep, tight counterbore, and are attached by a sturdy M5 thread.
Three each 25mm & 40mm spigots are included, plus a stainless M5 arbor fitted with a 6mm bearing sleeve to run in the spherical tailstock (nominate your model 15 or 20). Also, a supply of six stainless M5 nuts lets you attach multiple targets to the M5 arbor.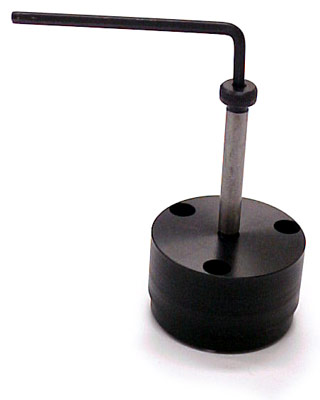 Spigot adapter and 40mm spigot.
Using the enclosed hex key, a spigot can be tightened into the adapter after the work is positioned on the shaft.
Note: concentricity of the spigot to to the adapter is achieved not by the M5 thread, but by the slight interference fit of the spigot shaft into the carefully machined adapter.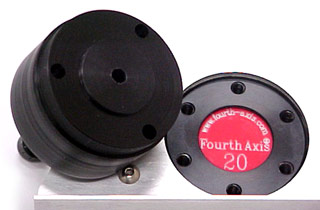 Concentricity of the adapter to the main spindle face of your Fourth Axis is achieved not by the #8-32 stainless socket-head cap screws (SHCS), but by the slight interference fit of the rear boss on the adapter into the front counterbore of the spindle.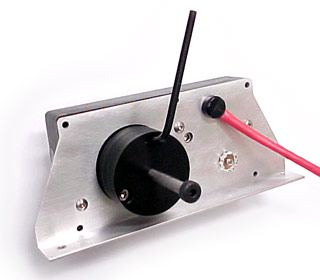 Using three #8-32, 19mm thread length stainless SHCS, the spigot adapter is mounted directly onto the main spindle face. Tiny amounts of runout (if present) in the main rotary spindle can be cancelled out by aligning the spigot adapter so any runout (if present) occurs in the opposite direction. If you have a good dial gauge and stand, you may find and mark which of the six possile adapter orientations is optimal.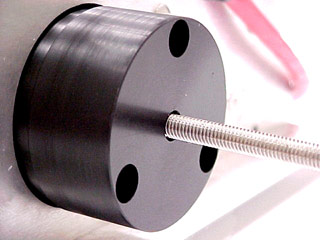 After fixing your objects on the shaft, but prior to mounting, run an M5 nut onto the end of the shaft (provided).
The M5 stainless threaded arbor will screw directly into the spigot adapter after its sleeved end has been inserted through the spherical tailstock. Because threaded fittings are not inherently concentric, the bore of the adapter is not threaded all the way through. Concentricity of the M5 shaft within the adapter can be achieved by gently tightening the shaft until it interferes slightly with the unthreaded section. You may then secure it against loose rotation with the M5 nut run earlier.