Fourth Axis

®

JSL
™

- (Jewel Settings Library)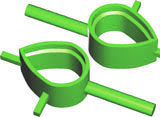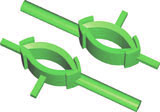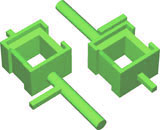 You design great rings, now you're looking for fresh ideas in stone settings, without hours of tedious drafting.
With the Fourth Axis Jewel Settings Library, you can enhance your ring design with an appropriate stone setting, ready to drop into Rhino or another good CAD software package, quickly moving your final STL into Modela Player 4 to get cutting.
These pre-designed stone settings suit a variety of stone shapes, including emerald, heart, marquise, oval, princess, pear, round, baguette (and tapered baguette), and trilliant.
Fourth Axis JSL™ fine jewelry design components may be modified or incorporated as-is and are delivered on a CD containing over 600MB of STL files.
These stone settings are drawn true size. Typically, no more than 3% shrinkage occurs in precious metals casting. Your casting house will be able to advise what shrinkage will occur and you should compensate for that by scaling up the settings in Rhino.
They are intended to be joined onto a ring shank (or any other foundation geometry) to become an extra part of the main design.
Please use the inquiry form below to place your order.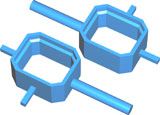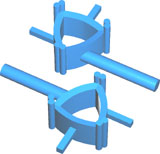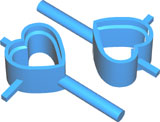 Appendix of files on Fourth Axis
®

JSL

™

CD:


+---Rubbed Bezel                   |           Emer-05.0x3.0mm.stl    |       Prin-03.0x3.0mm.stl          

|   +---Trilliant                  |           Emer-05.0x4.0mm.stl    |       Prin-03.5x3.5mm.stl          
|   |       Trill-04.0x4.0mm.stl   |           Emer-06.0x4.x0mm.stl   |       Prin-04.0x4.0mm.stl          
|   |       Trill-05.0x5.0mm.stl   |           Emer-07.0x5.0mm.stl    |       Prin-04.5x4.5mm.stl          

|   |       Trill-06.0x6.0mm.stl   |           Emer-08.0x6.0mm.stl    |       Prin-05.0x5.0mm.stl          
|   |       Trill-07.0x7.0mm.stl   |           Emer-09.0x7.x0mm.stl   |       Prin-05.5x5.5mm.stl          
|   |       Trill-08.0x8.0mm.stl   |           Emer-10.0x8.0mm.stl    |       Prin-06.0x6.0mm.stl          

|   |                              |                                  |       Prin-06.5x6.5mm.stl          
|   +---Round                      |                                  |       Prin-07.0x7.0mm.stl          
|   |       Round-2.0mm.stl        +---Claw                           |                                    

|   |       Round-2.25mm.stl       |   +---Trilliant                  +---Pear                             
|   |       Round-2.50mm.stl       |   |       Trill04.0x4.0mm.stl    |       Pear-04.0x3.0mm.stl          
|   |       Round-2.75mm.stl       |   |       Trill05.0x5.0mm.stl    |       Pear-05.0x3.0mm.stl          

|   |       Round-3.0mm.stl        |   |       Trill06.0x6.0mm.stl    |       Pear-05.0x4.0mm.stl          
|   |       Round-3.50mm.stl       |   |       Trill07.0x7.0mm.stl    |       Pear-06.0x4.0mm.stl          

|   |       Round-4.0mm.stl        |   |       Trill08.0x8.0mm.stl    |       Pear-07.0x5.0mm.stl          
|   |       Round-4.5mm.stl        |   |                              |       Pear-08.0x5.0mm.stl          

|   |       Round-5.0mm.stl        |   +---Round                      |       Pear-09.0x6.0mm.stl          
|   |       Round-5.5mm.stl        |   |       Round-2.0mm.stl        |       Pear-10.0x7.0mm.stl          

|   |       Round-6.0mm.stl        |   |       Round-2.25mm.stl       |                                    
|   |       Round-6.5mm.stl        |   |       Round-2.50mm.stl       +---Oval                             
|   |       Round-7.0mm.stl        |   |       Round-2.75mm.stl       |       Oval-04.0x3.0mm.stl          

|   |       Round-7.5mm.stl        |   |       Round-3.0mm.stl        |       Oval-05.0x3.0mm.stl          
|   |       Round-8.0mm.stl        |   |       Round-3.5mm.stl        |       Oval-05.0x4.0mm.stl          

|   |                              |   |       Round-4.0mm.stl        |       Oval-06.0x4.0mm.stl          
|   +---Princess                   |   |       Round-4.5mm.stl        |       Oval-07.0x5.0mm.stl          
|   |       Prin-02.0x2.0mm.stl    |   |       Round-5.0mm.stl        |       Oval-08.0x6.0mm.stl          

|   |       Prin-02.5x2.5mm.stl    |   |       Round-5.5mm.stl        |       Oval-09.0x7.0mm.stl          
|   |       Prin-03.0x3.0mm.stl    |   |       Round-6.0mm.stl        |       Oval-10.0x8.0mm.stl          

|   |       Prin-03.5x3.5mm.stl    |   |       Round-6.5mm.stl        |                                    
|   |       Prin-04.0x4.0mm.stl    |   |       Round-7.0mm.stl        +---Marquise                         
|   |       Prin-04.5x4.5mm.stl    |   |       Round-7.5mm.stl        |       Marq-04.0x2.0mm.stl          

|   |       Prin-05.0x5.0mm.stl    |   |       Round-8.0mm.stl        |       Marq-05.0x2.5mm.stl          
|   |       Prin-05.5x5.5mm.stl    |   |                              |       Marq-07.0x3.5mm.stl          

|   |       Prin-06.0x6.0mm.stl    |   \---Oval                       |       Marq-08.0x4.0mm.stl          
|   |       Prin-06.5x6.5mm.stl    |           Oval-04.0x3.0mm.stl    |       Marq-10.0x5.0mm.stl          
|   |       Prin-07.0x7.0mm.stl    |           Oval-05.0x3x0mm.stl    |       Marq-6.0x3.0mm.stl           

|   |                              |           Oval-05.0x4.0mm.stl    |                                    
|   +---Pear                       |           Oval-06.0x4.0mm.stl    +---Emerald Cut                      
|   |       Pear-04.0x3.0mm.stl    |           Oval-07.0x5.0mm.stl    |       Emer-05.0x3.0mm.stl          

|   |       Pear-05.0x3.0mm.stl    |           Oval-08.0x6.0mm.stl    |       Emer-05.0x4.0mm.stl          
|   |       Pear-05.0x4.0mm.stl    |           Oval-09.0x7.0mm.stl    |       Emer-06.0x4.0mm.stl          
|   |       Pear-06.0x4.0mm.stl    |           Oval-10.0x8.0mm.stl    |       Emer-07.0x5.0mm.stl          

|   |       Pear-07.0x5.0mm.stl    |                                  |       Emer-08.0x6.0mm.stl          
|   |       Pear-08.0x5.0mm.stl    +---Capped-claw                    |       Emer-09.0x7.0mm.stl          
|   |       Pear-09.0x6.0mm.stl    |   +---Pear                       |       Emer-10.0x8.0mm.stl          

|   |       Pear-10.0x7.0mm.stl    |   |       Pear-04.0x3.0mm.stl    |                                    
|   |                              |   |       Pear-05.0x3.0mm.stl    +---Baguette Tapered                 
|   +---Oval                       |   |       Pear-05.0x4.0mm.stl    |       Tapered-03.0x1.5x1mm.stl     

|   |       Oval-04.0x3.0mm.stl    |   |       Pear-06.0x4.0mm.stl    |       Tapered-03.5x1.5x1mm.stl     
|   |       Oval-05.0x3.0mm.stl    |   |       Pear-07.0x5.0mm.stl    |       Tapered-03.5x2.5x1mm.stl     

|   |       Oval-05.0x4.0mm.stl    |   |       Pear-08.0x5.0mm.stl    |       Tapered-04.0x2.0x1.5mm.stl   
|   |       Oval-06.0x4.0mm.stl    |   |       Pear-09.0x6.0mm.stl    |       Tapered-04.5x2.0x1mm.stl     

|   |       Oval-07.0x5.0mm.stl    |   |       Pear-10.0x7.0mm.stl    |       Tapered-04.75x2.0x1.5mm.stl  
|   |       Oval-08.0x6.0mm.stl    |   |                              |       Tapered-05.0x2.0x1.5mm.stl   

|   |       Oval-09.0x7.0mm.stl    |   \---Heart                      |       Tapered-05.5x2.5x1.5mm.stl   
|   |       Oval-10.0x8.0mm.stl    |           Heart 03.0x3.0mm.stl   |       Tapered-06.0x3.0x2.0mm.stl   

|   |                              |           Heart 04.0x4.0mm.stl   |                                    
|   +---Marquise                   |           Heart 05.0x5.0mm.stl   \---Baguette                         
|   |       Marq-04.0x2.0mm.stl    |           Heart 06.0x6.0mm.stl           Bag-01.75x1.5mm.stl          

|   |       Marq-05.0x2.5mm.stl    |           Heart 07.0x7.0mm.stl           Bag-02.25x1.75mm.stl         
|   |       Marq-06.0x3.0mm.stl    |           Heart 08.0x8.0mm.stl           Bag-02.75x2.0mm.stl          
|   |       Marq-07.0x3.5mm.stl    |                                          Bag-03.0x2.0mm.stl           

|   |       Marq-08.0x4.0mm.stl    |                                          Bag-03.25x2.0mm.stl          
|   |       Marq-10.0x5.0mm.stl    \---Capped Ends                            Bag-03.75x2.25mm.stl         
|   |                                  +---Trilliant                          Bag-04.0x2.25mm.stl          

|   +---Heart                          |       Trill04.0x4.0mm.stl            Bag-04.5x2.25mm.stl          
|   |       Heart-03.0x3.0mm.stl       |       Trill05.0x5.0mm.stl            Bag-04.75x2.75mm.stl         
|   |       Heart-04.0x4.0mm.stl       |       Trill06.0x6.0mm.stl            Bag-05.0x2.75mm.stl          

|   |       Heart-05.0x5.0mm.stl       |       Trill07.0x7.0mm.stl            Bag-05.25x3.0mm.stl          
|   |       Heart-06.0x6.0mm.stl       |       Trill08.0x8.0mm.stl            Bag-05.50x3.0mm.stl          
|   |       Heart-07.0x7.0mm.stl       |                                      Bag-06.0x3.0mm.stl           

|   |       Heart-08.0x8.0mm.stl       +---Princess                           Bag-06.0x4.0mm.stl           
|   |                                  |       Prin-02.0x2.0mm.stl            Bag-07.0x5.0mm.stl           
|   \---Emerald Cut                    |       Prin-02.5x2.5mm.stl            Bag-08.0x6.0mm.stl